New Delhi, 27 May 2021 – The state government of Gujarat has announced that the Gujarat Class 12 board exams 2021 for both general (arts and commerce) and science streams will be conducted from July 1 as per the existing pattern. The Gujarat Secondary and Higher Secondary Education Board (GSHSEB) will organise the exams following all the COVID-19 protocols.
The Gujarat Education Minister Bhupendrasinh Chudasama stated that this decision has been made in a high-level assembly meeting chaired by the Chief Minister of Gujarat Vijay Rupani in the larger interest of over 6.83 lakh students.
The Gujarat Education Minister was quoted as saying, "Exams of Science and General Streams will begin on July 1. Part-1 of Science stream will have multiple-choice questions(MCQs) and descriptive writing in Part 2."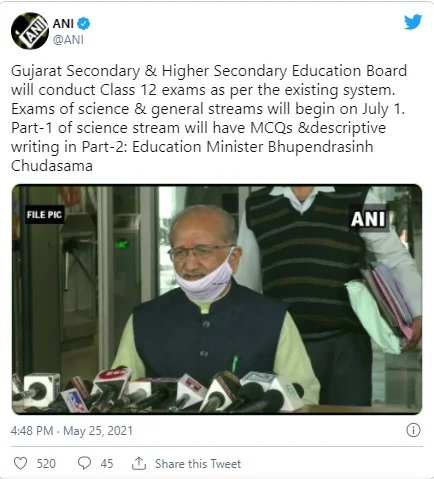 Note: A 100 marks examination will be conducted with multiple choice questions for 50-marks and a subjective paper for 50 marks for 1.4 lakh GSEB science students. The remaining 5.43 lakh general stream students will be taking a 100 marks subjective exam.
Gujarat Class 12 Board Exams 2021 – COVID-19 Protocols and Guidelines
1. In order to maintain social distancing amid COVID-19, the Gujarat Secondary and Higher Secondary Education Board (GSHSEB) has decided to accommodate only 20 students in one examination hall, following all the Standard Operating Procedures (SOPs) of COVID-19 strictly during the exams.
2. The Education Minister has also stated that the state government will increase the number of exam centres as well as rooms for this year's board exams to assure the safety of the students.
3. Moreover, the exam centres will be allotted in the proximity of the students' residence to avoid long-distance travel. The government has planned to set up examination centres in such talukas where there is a sufficient number of students but no exam centre. 

4. All the examination centres will be equipped with CCTV cameras. 
5. Moreover, the state government has also decided to conduct the Gujarat Class 12 board exams 2021 with new question papers for the students who will not be able to appear for exams due to COVID-19 related or other unpreventable reasons. These students will be allowed to reappear after 25 days of the first date of the actual examination. 
On May 13, the Gujarat government announced a mass promotion for over 8.72 lakh GSHSEB Class 10 and Class 11 students. Further, the state government has cancelled the exams for students of Class 1 to 9.